"The Government teaches the whole people by example. If the Government becomes a law breaker, it breeds contempt for the law; it invites every man to become a law unto himself; it invites anarchy."
- Louis D. Brandies, Supreme Court Justice.
Do you remember when I posted this photo back in July?
Do you remember the story behind it?
Quick refresher... someone broke into my car to steal what ever they could.
This particular post I named
W.R.O.L
, defined as, "without the rule of law".
Oh my word... that post drew some heavy, very angry criticism. You wouldn't believe some of the conversations I had and the email "hate mail" I received as part of that post. People were shocked and appalled that I would even suggest that people would band together and loot and potentially kill each other.
I feel that people were really upset of the fact that anarchy could actually take place, that people would sink to that level.
I decided not to deter from continuing my message. I wrote about it again in
, "The house of cards is starting to fall.
I have stuck to my guns on my thoughts around the fact that this erosion of people disregarding the law... and you know what... it is happening right in front of our eyes.
Let's look at what is happening over in the Mid-Atlantic coast.
Here is a headline for you;
People are having to booby trap their front doors... to prevent other people from trying to take needed food, supplies and clean water!
Here is another one for you;
Sandy Price Gouging Probed: $7 Loaf of Bread, $10 Box of Matches
Or how about this one;
Shameless! Staten Island man busted for impersonating Red Cross worker - attempting to burglarize Sandy evacuated homes.
I remember when I first wrote
W.R.O.L
... I couldn't believe that my mind was going there...
I didn't want to believe that people would actually begin to sink to the level that they would justify killing other human beings for food, water or shelter...
I studied history... I looked at different conflicts.. I looked at different countries when they fell ... I studied the bible for examples... and you know what I saw each and every time?
When the government falls... when "
The Event
" takes place.. people revert back to their most basic of goals... Food... Water ... Shelter... They bind together... work towards a common goal of preservation.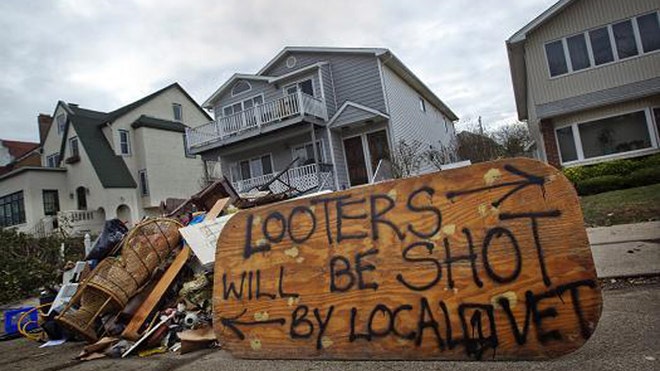 But worse than that... it always ... always descends into "clans" who prey off of each other,
then it brings out the worst in people!
This is why you and your family need to prepare for emergencies... This is why you and your family need to have a plan in place to know if your going to "Bug out" or "Bug In" ... .and how you are going to protect yourself your family and your home.
People will become hords... people will fight to preserve life... people will kill you to help them live.
Earlier this year I wrote about families who are un-prepared in the post, "
Your Lack of Planning....
"
And I want to revisit that... there were way to many people caught un prepared for what came their way, they didn't list to the advice of the experts that said that said that bad stuff was coming.
Here is my point.... YOU CANNOT BE A BURDEN ON SOMEONE ELSE. YOU CANNOT RELY ON SOMEONE ELSE TO SAVE YOU AND YOUR FAMILY.
IT WILL NOT HAPPEN.
You are the leader in your home, you are the person that your kids will look at with tears in their eyes as you tell them that you cannot feed them because you didn't plan ahead.
A PLAN IS KEY TO YOUR SURVIVAL.
These families in New York and New Jersey are living examples... there are families suffering in Long Island and Breezy Point and you know what...
still important power equipment sits in Central Park
... and
FEMA is doing a terrible job of helping families.
You just cannot rely on the Government to do anything right for its people... its too big... its too bulky ... its too inefficient.
You have to have a plan in place!
Do you want to be a victim or do you want to be a survivor? Do you want your family to suffer, to freeze, to be vulnerable?
I've posted this video because I feel it is a good message to see people who didn't plan, who are now suffering because of their choices, and I must again state... I am not a republican either so ... don't read into the Romney bit at the end.
Do I take joy in watching the suffering of people - ABSOLUTELY NOT!
I've donated to the Red Cross and my family and I pray every-night for the victims of what happened.
It is terrible... and like I have said before... I wouldn't wish it on my enemy.
But I re-itterate again that there are important lessons to be learned here.
Get your plan together... Get it implemented and stop wasting time.
Until next time...